In Lovina, the long stretch of beach is safe and a perfect place for swimming and snorkeling, and the sunsets over the Java Sea are among the most spectacular in Indonesia. Black sand beaches with palm trees open onto a calm sea where travellers can snorkel, dive, sail, fish and swim. Colorful Balinese boats take tourists out to see the dolphins, most active at sunrise, and the reef-protected waters provide a calm environment for snorkelling.
From Lovina:
In Lovina you find classes that will teach you all about Balinese food.
15 minutes drive to the Buddhist temple and Hot Springs at Banjar Village.
20 minutes drive to the beautiful temples Pura Beji and Meduwe Karang at Sangsit Village.
20 minutes drive to the famous Gigit waterfall.
45 minutes drive to the 18 hole Bali Handara golf course and Pura Ulun Danu on Lake Beratan
45 minutes drive to the traditional fruit and flower market, and Bali's only Botanical Garden in nearby Bedugul.
60 minutes drive to Bali Barat National Park where Jalak Bali, an indigenous and rare Starling bird species lives.
60 minutes drive to Menjangan Island, a world wild life underwater park.
60 minutes drive to Mount Batur / Kintamani, famous for a scenic view of the huge.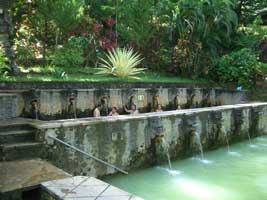 Lovina is located 10 km west the ancient town of Singaraja, the island's former Dutch Colonial capital. The town holds a unique library of ancient manuscripts at the Gedung Kerlya Museum.
Bali's only Buddhist monastery, Brahma Vihara Arama, is a few kilometres away and can be combined with a visit to the delightful setting of the Air Panas hot springs at Banjar.