This beautiful island is one of the world's favorite holiday destinations, where you can climb a volcano, walk through beautiful terraced rice fields and jungles, swim and surf some of the worlds most famous beaches, visit magnificent temples and traditional villages and meet some of the world's most culturally rich and fascinating people.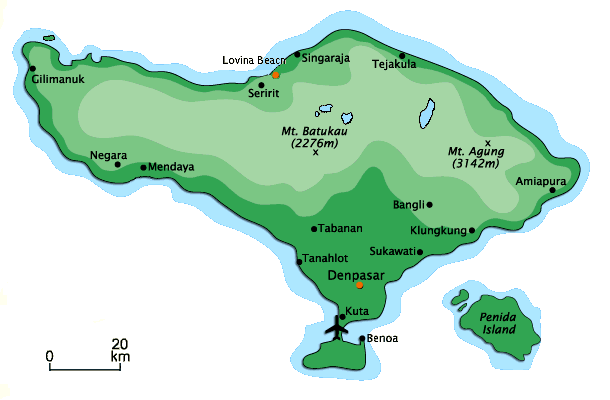 About Lovina
Lovina is about 2,5 hours away from Bali's International Airport. Drive the scenic road via Pupuan through the mountains to Bali's North coast. You'll enjoy beautiful views of picturesque rice terraces, and large plantations growing vanilla, chocolate, coffee, cloves, and even wine grapes.
Beginning 6 km west of Singaraja, the Lovina resort encompasses six villages: Pemaron, Anturan, Tukad Mungga, Kalibukbuk, Kaliasem and Temukus, but Kalibukbuk is generally accepted as the centre of Lovina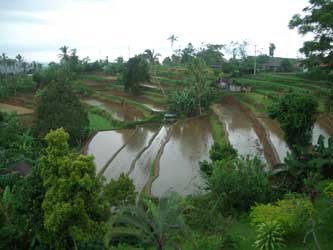 About culture
Bali's culture is based on a form of Hinduism called "Hindu Darma" which is believed to have arrived on the island during the 11th century. This religion plays a heavy part in the family customs and community lifestyle. Its influence expands into the arts, which gives Bali's art its individuality from the rest of Indonesia.
The Balinese have managed to preserve their culture despite the increasing number of tourists to the island. Among them are certainly difficult to distinguish religion, culture and art, as all of them are integrated into a unity. Everywhere you look, every single day, you will see ceremony, ritual and sacred offerings.
Another aspect of religious life in Bali is the belief that the gods and the goddesses appreciate the mundane pleasures as much as the mere mortals. Feasts and festivals color everyday life as they function to please the people as much as they please the gods. Dances, music, and performances will of course be present. And endowed with such fertile and arable land, the Balinese also practice their creativity with the food and offerings presented in these feasts
The staff at Villa Jaya will be happy to help you arrange the tours